The teachers and volunteers of Greek School Portland
wish you all
Merry Christmas and Happy 2022
Το Ελληνικό Σχολείο του Πόρτλαντ
σας εύχεται
Καλά Χριστούγεννα
και ευτυχισμένο το 2022
Good morning and Merry Christmas!
Please accept the following theological and moving Byzantine carols as a small but precious Christmas present.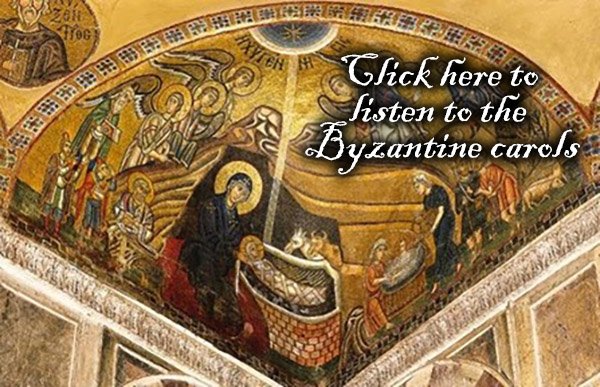 "May the Lord, Who is coming tomorrow to be born in the flesh for our salvation, have mercy on us all and save us!
Christ is Βorn!"

In Christ incarnated,
Fr.Christos

*Terrirem: In the carols, the word "Terrirem" is constantly heard. According to the Symbolic Theology, it means nothing else but the incomprehensibleness of Deity. In " Terrirem ", you do not understand " logos " (i.e., words), but melody. In Deity, you understand the love, the omnipotence and the others uncreated energies of the Divine Essence but it is not possible to conceive the Essence of God itself.

Dear families and friends of the Greek School,

The Ellinomatheia exams of the Greek Language Center were successfully completed in our examination center.

Our Back to School day was very well attended and we were very happy to see familiar and new faces! Our online school has already started classes with students of all ages, who are looking forward to learning and progressing in the Greek language. The books of the new year were distributed along with the art packages that our Art teacher, Irini Karanikas, designed and put together with special care and inspiration. The annual registrations 2021 - 22 have been completed and this year we have 35 children and 25 adults.

In addition to the student numbers' increase, we are also pleased with the new volunteers who have joined us this year. Thus, in the direction of technology development of the school, in addition to Thomas Spathas on the website and Catherine Chachas in the zoom, Amy Aivaliotis promotes our social media and Ted Nieusma and Christos Karanikas the digital applications. Christos Karanikas is also assisting us in taking care of all Greek School financial matters.

With such nice collaborations there is no doubt that our school will continue to grow for the benefit of our students and the Community.

Happy November!